ECE-NTUA high-achieving undergraduate student wins 2020 IEEE PES Outstanding Student Scholarship
---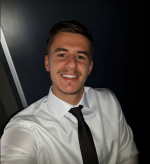 ECE-NTUA undergraduate student Dimitrios Zarras awarded a "2020 IEEE Power & Energy (PES) Outstanding Student Scholarship", which is destined for students who are IEEE PES Student Members in good standing, pursuing a Master's equivalent degree in Electrical and Computer Engineering with a focus on the Power & Energy field.
Nominated students should hold a minimum overall GPA of 90%, have professional and academic experience in the field through internships, student research projects, articles and presentations, have contributed voluntarily to the local PES activities and to other community and humanitarian activities and be committed to working in the power and energy engineering career field. The scholarship is awarded up to only twenty (20) recipients worldwide.
The prestigious scholarship consists of $10,000 USD, a plaque, and support to the scholarship recipients to attend a PES Regional meeting to be honored and celebrated.
"Words cannot describe the emotion and honor of being announced as a recipient of such a prestigious international scholarship from the largest organization of Electrical and Electronics Engineers worldwide" said Dimitris Zarras when learned of this award. "This award encircles 5 years of hard work and study and it best acknowledges all my personal endeavors in the field of Power & Energy so far. This accomplishment would not have been possible without the substantial guidance of Prof. Nikos Hatziargyriou who nominated me, the significant support of Prof. Stavros Papathanassiou, Prof. Costas Vournas, Prof. Konstantina Nikita and Prof. Nectarios Koziris who all recommended me and the help of God. I thank them wholeheartedly. A new fruitful journey has just started!"