ECE-NTUA Ph.D. student Manal M. Emara receives the IEEE Caixin Sun and Stan Grzybowski Best Student Paper Award
---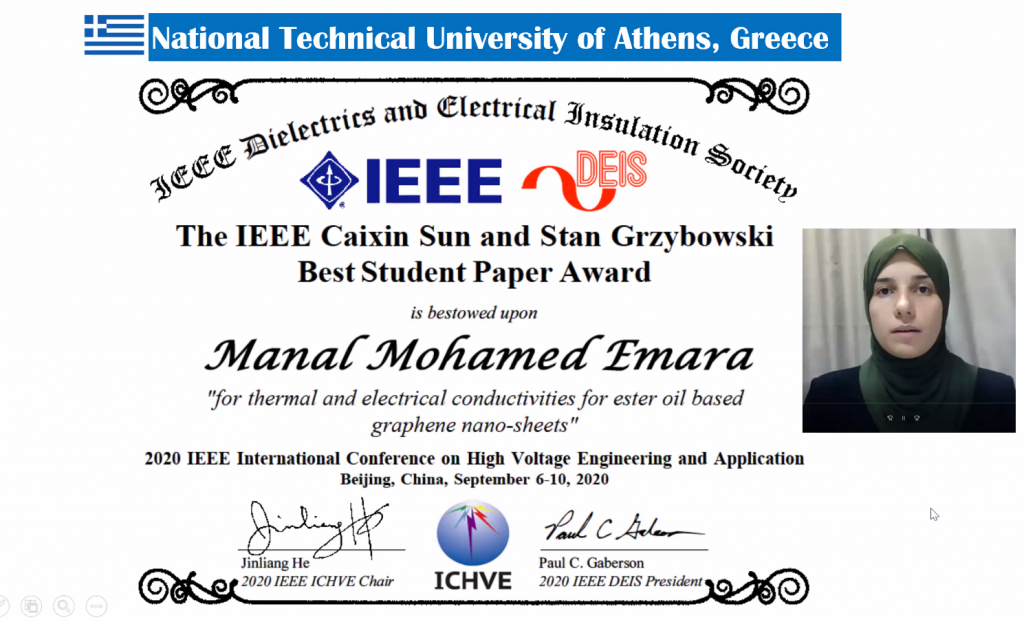 We are pleased to announce that ECE-NTUA Ph.D. student Manal M. Emara received the IEEE Caixin Sun and Stan Grzybowski Best Student Paper Award at the 2020 IEEE International Conference on High Voltage Engineering and Application "ICHVE 2020" that was held in Beijing China on September 7-10, 2020.
The award-winning paper entitled: "Thermal and Electrical Conductivities for Ester Oil Based Graphene Nano-sheets" was co-authored by: Manal M. Emara, Georgios D. Peppas, Aikaterini D. Polykrati, Sokrates Tegopoulos, Eleftheria C. Pyrgioti, Dimitrios D. Chronopoulos, Apostolos Kyritsis, Ioannis F.Gonos. This work is a cooperation of the School of Electrical and Computer Engineering of NTUA, the Department of Electrical and Computer Engineering of the University of Patras, the School of Applied Mathematical and Physical Sciences of NTUA and of the Olomouc University, Czech Republic. Her supervisor is Associate Professor Ioannis F. Gonos, High Voltage and Electrical Measurement Laboratory of ECE-NTUA.
Abstract
In this study, nanofluids were prepared using Graphene nano-sheets with two concentrations 0.002% and 0.004%. Thermal conductivity was studied to investigate thermal properties for nanofluid compared to pure oil. Thermal conductivity was calculated using the measured values of thermal diffusivity and specific heat values at range of temperatures of (30ºC- 90ºC). Thermal diffusivity and specific heat values were measured by LFA (Laser Flash analysis) and DSC (Differential Scanning Calorimetry), respectively. Furthermore, Broadband dielectric spectroscopy was used to measure electrical conductivity for nanofluids for a range of frequencies (0.1Hz to 1MHz) and a range of temperatures for heating and cooling. Temperatures range was from 20ºC to 100ºC for heating and from 95ºC to 25ºC for cooling with step 10ºC. A decrement in thermal diffusivity and thermal conductivity and an increment in specific heat values and electrical conductivity values with increasing temperature were observed. For the optimum nano-sheets concentration, an enhancement of the thermal conductivity by 35% was observed.
*Please email information about ECE-NTUA student and alumni awards to publicity@ece.ntua.gr