ECE-NTUA Students excelled in IEEEXtreme 14.0 competition
---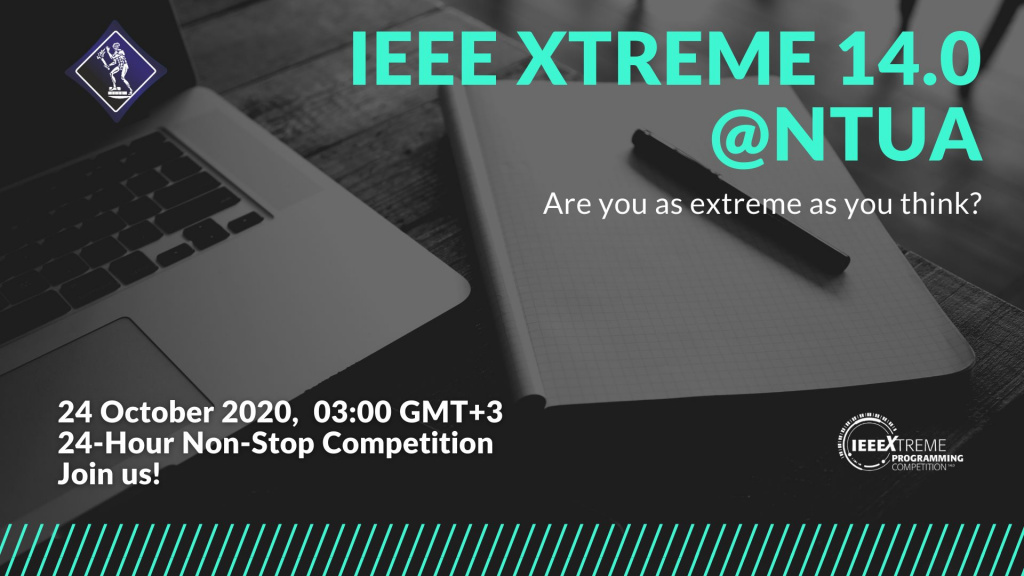 The School of Electrical and Computer Engineering of the NTUA enjoyed broad participation in the IEEEXtreme 14.0 Competiton.
IEEEXtreme is a global challenge in which teams of IEEE Student members compete in a 24-hour time span against each other to solve a set of programming problems that can be answered in any of the supported languages (C, C++, C#, Java, Python, Ruby, Perl, and PHP). The competition includes questions from various difficulties, from novice to expert levels. All teams receive the same problems and are expected to solve them without outside consultation. Points are awarded based on how the problem was solved and the time it took.
Due to the COVID-19 outbreak, this year's competition was held online and therefore no local hub was organized as in previous years. The School of ECE-NTUA in collaboration with the IEEE NTUA Student Branch and the IEEE Greece Section, stood by the participants, raising coffee and food delivery sponsorships and organizing two online pieces of training with the help of "Algoholics" team to get every student ready for the challenge.
The competition was held between 24th-25th of October 2020 and 59 teams from all over Greece and over 3,000 teams worldwide took part. ECE-NTUA contributed with 26 teams, from which 3 ranked among the top 100 and 2 between 100-150. These 5 teams also formed Greece's top 5.
The Backtrack boys team ranked 17th, FooBarFighters 76th, HTML1337HACK3R5 96th, ExtrIMS 108th and TsiliCoffeeShop 120th worldwide.
Prof. Nectarios Koziris, Dean of ECE-NTUA, said "I've enjoyed following this year's competition as a proctor. Despite the difficulties due to the pandemic, I am proud and thankful to see our students collaborate and excel. Our teams were ranked among the top in the world. One team from NTUA is in the top 20 (ranked 17th) among over 4000 teams. I would like to congratulate all the participating students."