Student Internship Opportunity in the IEEE Open Journal of Antennas and Propagation Editorial Office
---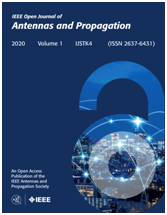 The Editorial Office of the IEEE Open Journal of Antennas and Propagation (IEEE OJAP), the first gold fully open access journal of the IEEE Antennas and Propagation Society, is looking for a talented student that will support the senior editorial staff in the production of digital content, emphasizing on the launch of a scientific podcast series for OJAP.
Position description
Main duties associated with this position include:
digital creation, editing, production of podcasts for the journal's website and social media channels
monitoring of the website's and social media traffic and behavioural analytics to guide development of digital content.
As part of your internship, you will have the opportunity to make an impact on the journal and editorial team, through your work on real projects and involvement in organizing interview, panel, theme initiatives. You will interact with global leaders from academia and industry and learn about their career paths and achievements during interview sessions.
Requirements
Audio and video editing skills and familiarity with tools/platforms for podcast and video production are desirable. Creativity and initiative would be more than welcome.
Application
Potentially interested students are invited to apply for the position by sending their CV to ojap@ieee.org, accompanied by information about previous relevant experience and availability (period, weekly hours, potential limitations).