ECE's 100 years anniversary event on November 27, at the Onassis Cultural Centre, Athens
---
The School of Electrical and Computer Engineering (ECE) of the National Technical University of Athens (NTUA), on the occasion of its 100 years of operation, organizes an anniversary event under the theme "100 years of education and research on the cutting edge of technology", on Monday, November 27, 2017, at the Onassis Cultural Centre, Athens.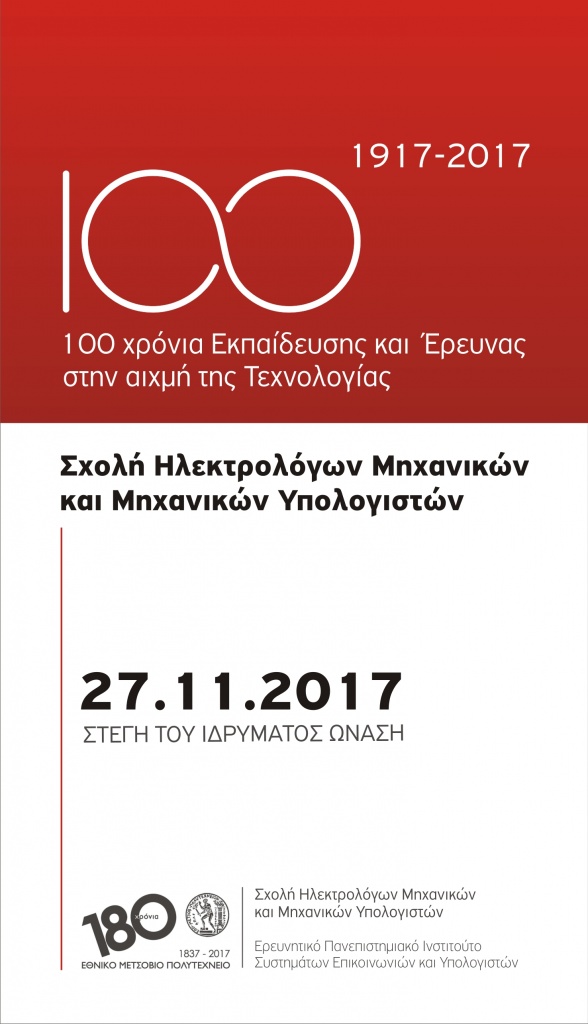 The event consists of two parts and will start at 12:00. The first part (12:00-17:00) will host presentations on the Main Stage and a parallel exhibition of research results and innovative technologies in the open spaces of the ground and 2nd floor of the Onassis Cultural Centre. The main anniversary event will start at 17:30 and will feature presentations on the School's history and vision, along with its academic and research activities and contribution to research and development at a national and international level. In addition, distinguished graduates of the School will present their career paths in the broad spectrum of professional activities of the modern Electrical and Computer Engineering.
The event is addressed to private and public bodies, representatives of the industry and the academic community. It is expected to be a meeting place for scientists and a birthplace for fruitful collaboration opportunities, aiming to further strengthen the links between the School's academic community with the society and the labor market in the framework of education, research and innovation actions.