Big Data and European Logistics: CSLab NTUA at the European Big Data Value Forum 2018 in Vienna to present the SELIS project
---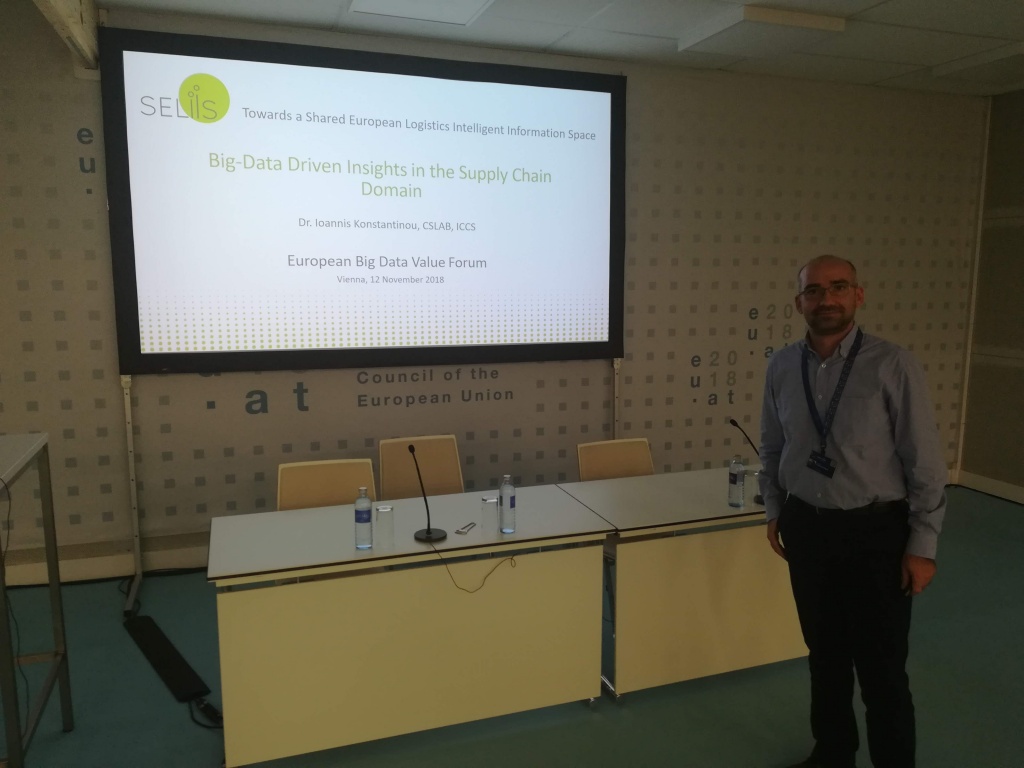 The European Big Data Value Forum (EBDVF) is the key European Event for industry professionals, researchers, business developers and policymakers to discuss the challenges and opportunities of the European Data economy and data-driven innovation of the future. This year's EBDVF was held in Vienna at the Austria and Siemens Conference Centres between 12 and 14 November 2018 with the topic "Data Driven Artificial Intelligence for the Future".
Dr. Ioannis Konstantinou, Senior Researcher at ICCS-NTUA and the Technical Leader of the SELIS research project (Towards a Shared European Logistics Intelligent Information Space) presented the main technical results regarding the ICT infrastructure in the Transforming Transport Session.
SELIS is a three-year research project with a budget of more than 18M establishing an exceptionally strong consortium of more than 40 European logistics stakeholders and ICT providers deployed in 8 living labs representing the principal logistics communities. SELIS creates a network of logistic communities' specific shared intelligent information spaces termed SELIS Community Nodes. SELIS Community Nodes link with their participants' existing systems through a secure infrastructure and provide shared information and tools for data acquisition and use, according to a 'cooperation agreement'. The fundamental principle is that it provides a 'lightweight ICT structure' to enable information sharing for collaborative sustainable logistics for all at strategic and operational levels.
The SELIS Big Data Stack was presented by Dr. Ioannis Konstantinou. The stack offers a suite of available descriptive and predictive (i.e., machine learning) distributed algorithms (deep neural networks, support vector machines, etc.) over collected data in the form of recipes to solve visibility, prediction and classification tasks. SELIS is offered either as a service through a cloud deployment of choice or as a package that can be downloaded and installed inside the company's premises. SELIS recipes are being developed for 8 different Living Labs and 10 use cases. The presentation discussed how the implemented recipes were used to solve an existing stock optimization problem for a large retailer and a route optimization / ETA prediction problem for a large railway undertaker.