HAMLET Demo Presentation at PCRL
---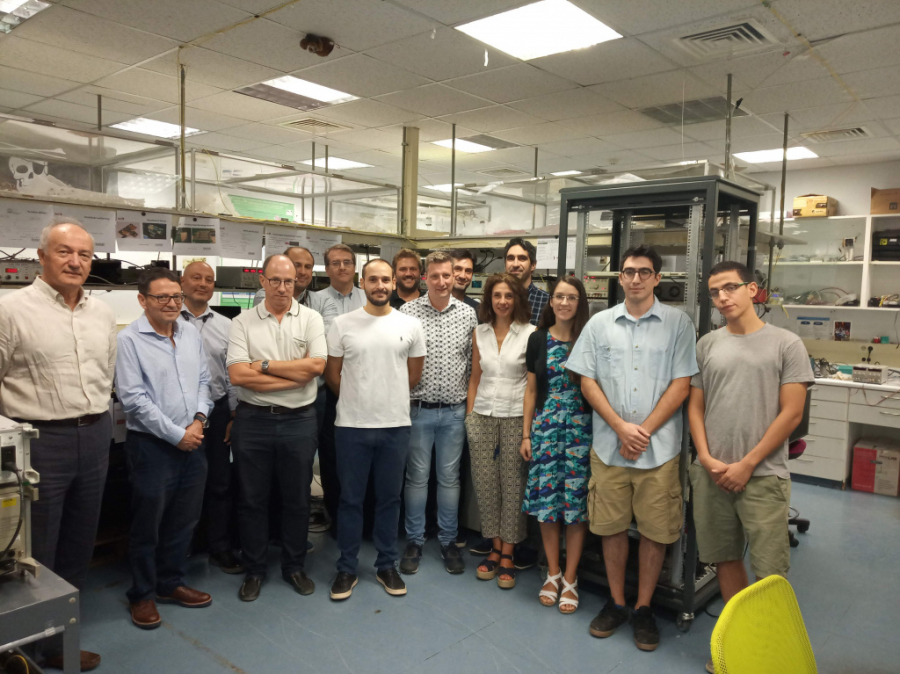 The Photonics Communications Research Laboratory (PCRL) of the School of Electrical and Computer Engineering of the NTUA successfully organized the HAMLET demo presentation on September 4, 2019. Cristos Tsokos from ICCS/PCRL team and Chris Roeloffzen from LIONIX demonstrated the HAMLET project to representatives from INTRACOM and COSMOTE.
HAMLET is a Research and Innovation Action program, funded by the European Commission under the Horizon2020 programme.
According to HAMLET, the new generation of broadband microwave systems in various fields (wireless communications, satellite communications, sensing, medical imaging) and especially the emerging 5G wireless technology, have very high requirements in terms of carrier frequency, bandwidth, dynamic range, size, power consumption, tunability, and immunity to electromagnetic interference. In parallel, when the microwave signals that need to be processed have a very high carrier frequency, the integrated circuits should be able to offer high-bandwidth modulation and detection. The combination of these requirements is very challenging, and the necessary photonic integration technology that could exploit the full potential of MWP technology is still missing.
Towards that end, the aim of the HAMLET project is to develop a powerful photonic integration technology, tailored for the first time to the needs of MWP and that will enable the corresponding discipline to meet the expectations for commercial uptake with the advent of 5G era. HAMLET will rely on the heterogeneous integration of graphene sheets on polymer and PZT layers on low-loss Si3N4/SiO2 platforms, so as to develop very fast graphene based electro-absorption modulators and an extensive optical beam forming network. With this hybrid technology HAMLET will develop transceivers to seamlessly interface the optical fronthaul and radio access at the remote antenna units (RAUs) of 5G base stations.
Watch the video with some highlights from the demo presentation.