The SELIS impact on the future of Transport & Logistics sector
---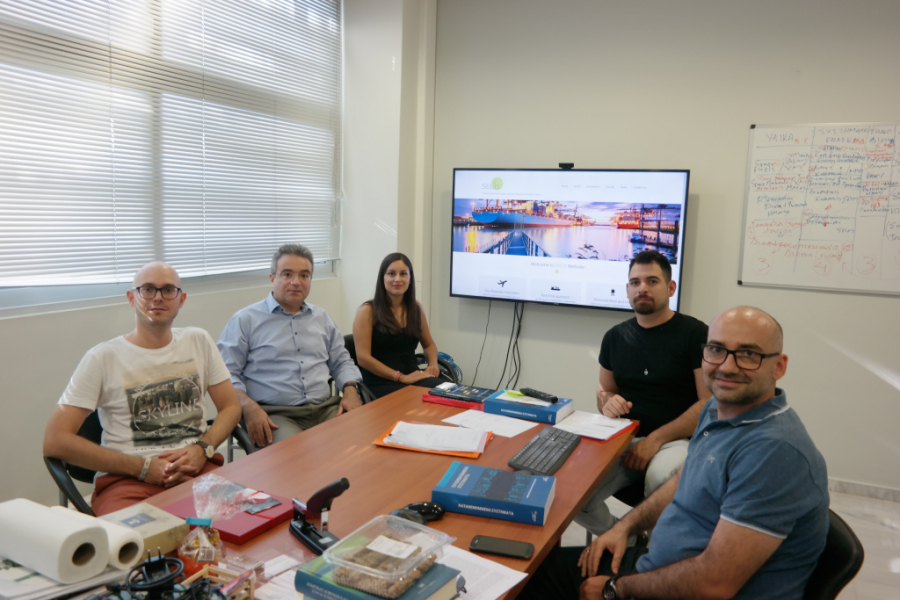 Photo credit: NTUA CSLab team. From left to right: Nikos Xalvantzis, Prof. Nectarios Koziris, Evdokia Kassela, Nikodimos Provatas, Dr Ioannis Konstantinou.
There is no doubt that EU transport and logistics sector is undergoing important transformation as new technological solutions come into everyday reality. The SELIS research project has boosted innovation in the related sector by delivering a digital "platform for pan-European logistics applications", enabling every supply chain actor to interconnect through a cloud-based information sharing infrastructure.
The SELIS project involved 37 European partners including ICCS/ECE-NTUA, and it was co-ordinated by Inlecom Systems. Other project partners include DHL, A.P. Moller - Maersk A/S, IBM, MGI International, etc. It has received funding from the European Union's Horizon 2020 research and innovation programme under the Grant Agreement No 690588 and after 3 years of research and development came to a successful close at the end of August 2019.
According to Dr. Ioannis Konstantinou from ICCS/ECE-NTUA, the Greek Institution had a key role in this project as it was responsible to design and deliver the SELIS IT platform that facilitates the data transfer, storage and analysis during collaboration. Moreover, ICCS's Scientific Coordinator Prof. Nectarios Koziris said that the information sharing through data exchange and analysis offered by SELIS allows all different stake holders to optimize their delivery times, minimize their CO2 emissions, minimize transfer cost etc. The transport and logistics sector nowadays becomes more and more complex, and dynamic multimodality is often employed (trains, ships, trucks, etc.).
The main benefits and values made possible by the SELIS solutions are considered to be the following:
• More efficient synchronized networks
• Decrease in operational costs for the companies or the bodies involved
• Secure and user friendly plug and play approach to sharing and analyzing supply chain data by enabling real-time collaboration across communities
• Reach European Commission's CO2 targets
• Establishing an exceptionally strong consortium of logistics stakeholders and ICT providers
Dr. Takis Katsoulakos, Managing Director at Inlecom Systems, in his recent interview in Forbes mentioned: "Our platform's connectivity tools allow data to be collected from heterogeneous sources, thus creating a single data-sharing intelligence space in the cloud, which physically consists of distributed connected data sources from supply chain actors. Connectivity tools include intelligent adaptors including translators to a common Supply Chain Community Nodes (SCN) data model; a publish/subscribe system for many-to-many communication of events with the ability to restrict who can subscribe to what data artifacts; authentication and monitoring services. There is a single-sign-on authorization system for services or data sources, so that participants can deploy services via secure Application Programming Interfaces (APIs) -- SELIS is designed to support Service Oriented Architecture (SOA) and microservices deployment for SCN-based applications".