ECE-NTUA team "μGrace Anatomy" awarded and qualified as Global Nominees at NASA International Space Apps Challenge 2019
---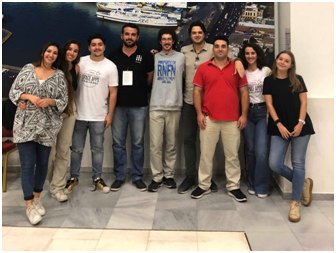 On Microlab's initiative, ECE-NTUA research personnel from Μicrolab, PCRL (C. Papapanos) and Archimedes lab (T. Mamatsis) participated in one of the two awarded teams at the NASA International Space Apps Challenge 2019 in the Piraeus Hub.
Space Apps Piraeus was held on October 19-21, 2019, and more than 170 people joined the International Space Apps Challenge at this location. Participants form and work in teams to address challenges on Earth and Space, and set out innovative solutions using publicly available NASA data. Space Apps offers local and global awards.
The winning team named μGrace Anatomy was led by E. Petrongonas and mentored by G. Lentaris. Based on the key idea proposed by Microlab, the team worked collaboratively towards defining a mission to track changes in the underground waters in localised areas using a formation of 3 small satellites, while minimising the costs. At the end of the local competition, the team was awarded and qualified for the next phase of the competition as Global Nominees.
We wish our global nominees the best of luck!