Paper by ECE-NTUA Ph.D. student D. Karagiannis and Prof. K. Nikita receives the Best Poster Award in the IEEE SmartIoT 2020
---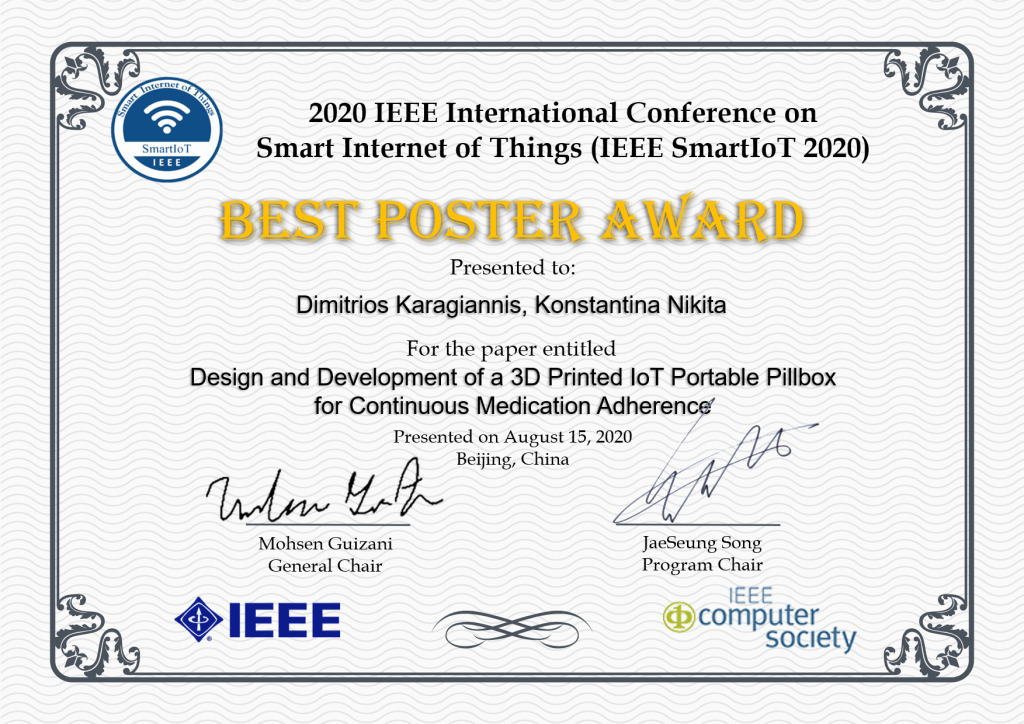 We are pleased to announce that ECE-NTUA Ph.D. student D. Karagiannis received the Best Poster Award in the 2020 IEEE International Conference on Smart Internet of Things (IEEE SmartIoT 2020) that was held on August 14-16, 2020, at Beijing, China.
The award-winning paper entitled: "Design and Development of a 3D Printed IoT Portable Pillbox for Continuous Medication Adherence" was co-authored by Dimitrios Karagiannis and Konstantina Nikita.
This paper proposes a 3D printed smart Pillbox with a unique foldable design that allows increased pill capacity in a small size and provides portability, unlike available bulky devices. A range of advanced functionalities are supported by an IoT platform that enables continuous medication adherence -during indoor and outdoor activities, remote environment monitoring through appropriate sensors, and real-time medication adjustment according to potential interactions identified between patient's drugs and food or supplements consumed by the patient.
*Please email information about ECE-NTUA student and alumni awards to publicity@ece.ntua.gr