Paper co-authored by MSc Student Nikos Nikitas on optimizing internal shuffle operation of Apache Spark, the leading Big Data system, presented on IEEE BigData 2021
---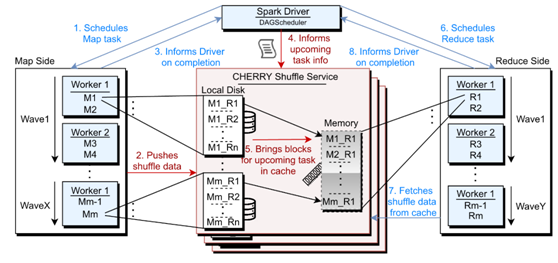 We are pleased to announce that the paper titled "Cherry: A Distributed Task-Aware Shuffle Service for Serverless Analytics" has been presented in the prestigious IEEE BigData conference that was held virtually on December 15-18, 2021.
The paper was co-authored by Nikos Nikitas (MSc student in Data Science and Machine Learning, ECE-NTUA), Ioannis Konstantinou (Assistant Professor, University of Thessaly), Vana Kalogeraki (Professor, Athens University of Economy and Business) and Nectarios Koziris (Professor, ECE-NTUA) and was the result of Nikos' Master's Thesis.
The paper presents Cherry, an open-source distributed task-aware Caching sHuffle sErvice for seRveRless analYtics. Cherry optimizes Apache Spark's internal shuffle mechanism, which is a typical bottleneck in heavy distributed computations. It introduces a remote disaggregated storage engine for intermediate files while employing a task-aware look-ahead caching policy that pre-fetches blocks ahead of computation. Cherry is released as an open-source module and is based on cloud-native k8s technologies.