EESTech Challenge 2022: Machine Learning Hackathon
---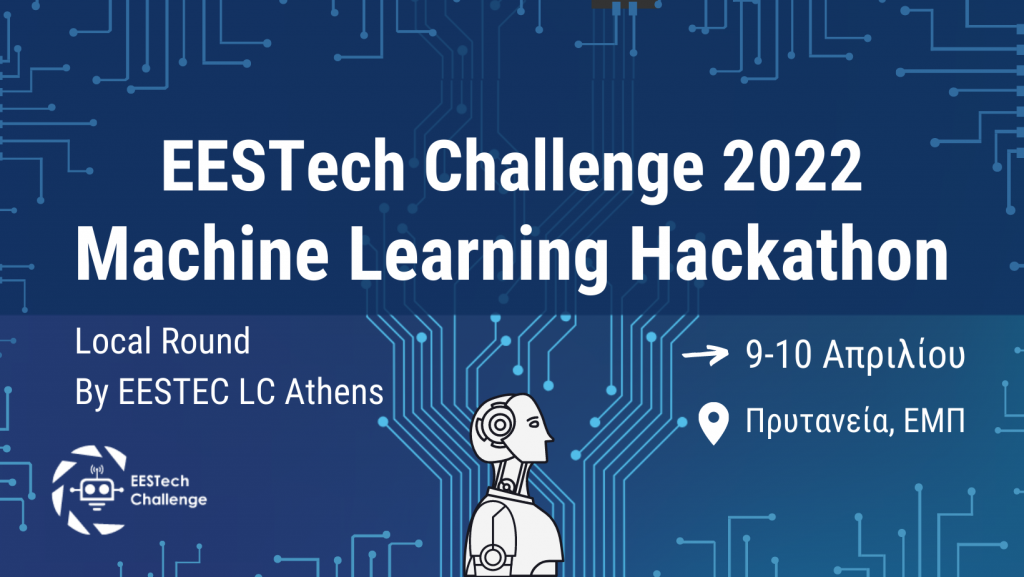 The event is co-organized by the AILS Laboratory of the School of Electrical and Computer Engineering of the NTUA and the EESTEC LC Athens.
Why should you participate in the Hackathon:
The purpose of the competition is to give the chance to students throughout Europe to empower their knowledge in the electrical and computer engineering domain, to further develop their coding and hardware skills and broaden their professional horizons.
This year's topic is Machine Learning and its applications in biomedicine.
How will the students prepare for the hackathon ?
On the 6th of April, a workshop will take place in order to train students on the tools needed for the completion of the task.
Main event: Saturday 9/04/22, 11:00, till Sunday 10/04/22, 11:00, at the NTUA (administration building)
The participants will spend the night at the NTUA (administration building), since the task will last around 18 to 20 hours, and will be evaluated based on their software skills.
What is the prize?
The winning team will travel to Milan to compete in the final round against the other European winning teams!
How can you sign up for the competition?
Participation in this competition requires a three-member team and one at least laptop. If you haven't found a team we can give you the possibility to integrate you into a team with other individual participants!
Needed requirements for your participation in the hackathon:
•Good knowledge of python.
•The basics of machine learning.
•You don't need knowledge on biomedicine.
Sign up for the competition till the 30th of March on the link:
https://docs.google.com/forms/d/e/1FAIpQLSe5QNpwy-upNiVEDqhzenh5zksN8TSW9QPotX_8nXJEsEIk4A/viewform?usp=pp_
For more information, you can visit the Facebook site: