Prom Racing NTUA revealed P22 in Olympic Aquatic Center of Olympic Athletic Center of Athens
---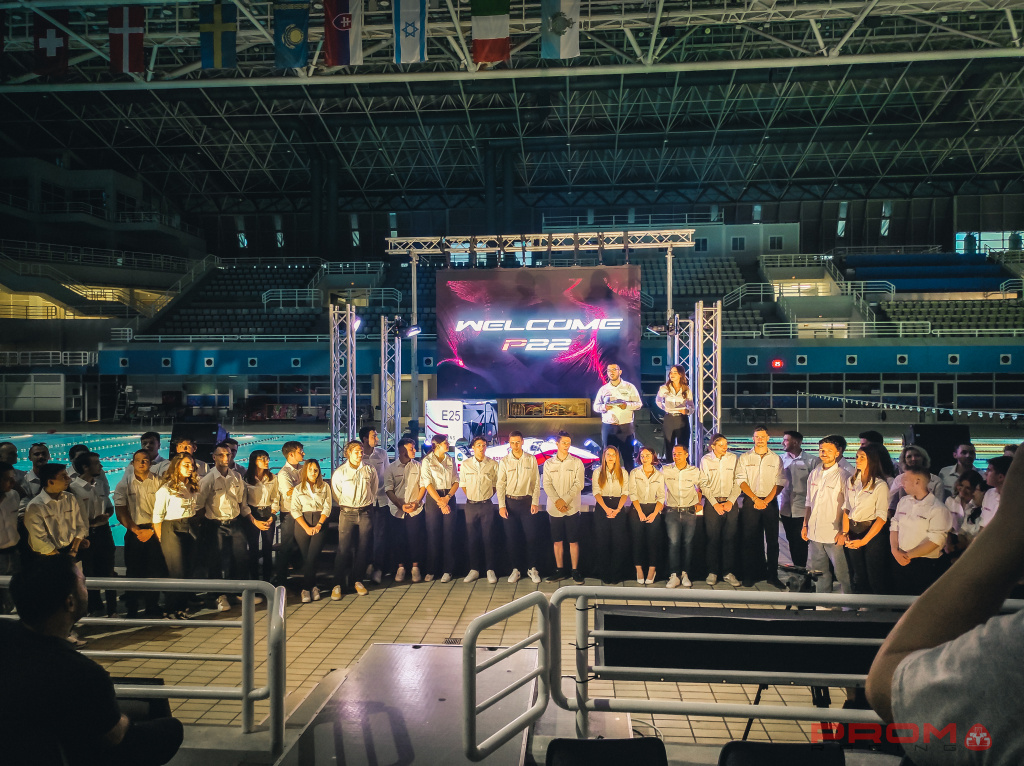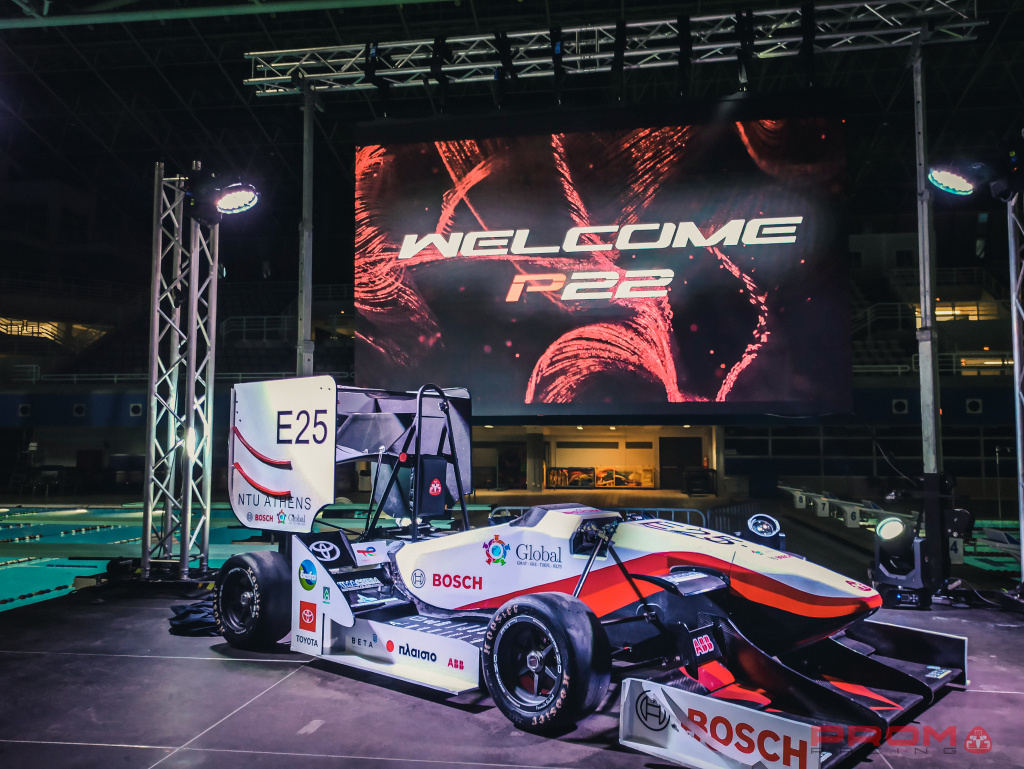 Prom Racing, the student team that represents the National Technical University of Athens in the Formula Student competitions, organized with great success the official presentation of its second electric racing car at the O.A.C.A. Indoor Swimming Pool. The event was attended by Mr. Konstantinos Chalioris, General Director of OACA, as well as the cycling world champion, Mr. Christos Volikakis. Supporters, sponsors of the team, as well as friends and relatives also were present.
The cooperation of Prom Racing with O.A.C.A. had started on February 5th, when the first electric race car of the team, P20, ran a specially designed course under the arches of "Agora". For the unveiling of P22, however, a different and recently renovated installation of the Olympic Complex, the Indoor Swimming Pool, was chosen. "This is a space that creates a dynamic balance between the liquid element and Motor Sports, even if it does not theoretically seem to match the competitive identity of the team," said Konstantinos Alexopoulos, Marketing Director of Prom Racing.
The presentation, among other things, contained a greeting from the Dean of the School of Mechanical Engineering, Prof. Nikolaos Marmaras, and also from his peer of the School of Electrical and Computer Engineering, Prof. Nectarios Koziris (https://youtu.be/rfsUgCJYtWw?t=884). Then, the floor was given to former members of the team, who are now distinguished in the field of Formula 1 and the automotive industry, and shared their own experiences from their participation in Prom Racing. Also, a few words were shared by representatives of the two Platinum Sponsors of the team, Mr. Dimitris Gikas, co-founder of Global Prep and Mr. Ioannis Kapras, CEO of Bosch Hellas.
After the technical speeches, P22 was unveiled to the applause of the approximately one thousand attendees. P22 is the most advanced and sophisticated racing car ever built by Prom Racing. More specifically, the P22 will be 15 kg lighter than its predecessor, where 9 kg of them are due to the new battery components, the increase of the useful energy of the battery by 10% and the increase of the vertical force of the aerodynamic elements by 10%. All of the above combined, P22 is expected to be 1.5 seconds faster in a one-minute lap than P20.
In mid-July, Prom Racing will be on the track that made history last year, in Most, for the Formula Student Czech Republic competition. Then follows the Formula Student East competition held in Hungary, on the same track as Formula 1 races happen, and finally Formula Student Germany. "For another year we have set high goals. So, we want to continue this excellent course, to evolve even more and to see the efforts of a year rewarded " said the team leader Giannis Diakoumis.
See the event here https://youtu.be/rfsUgCJYtWw
Stay tuned to the team's Social Media for more Prom Racing news.
Website:https://www.promracingteam.com/el/
Facebook:https://www.facebook.com/prom.racing/
Instagram:https://www.instagram.com/promracing/