LINKEDIN PROFILE ( December 19, 2022, Multimedia Amfitheater, NTUA Central Library building, 13:00 - 14:30)
---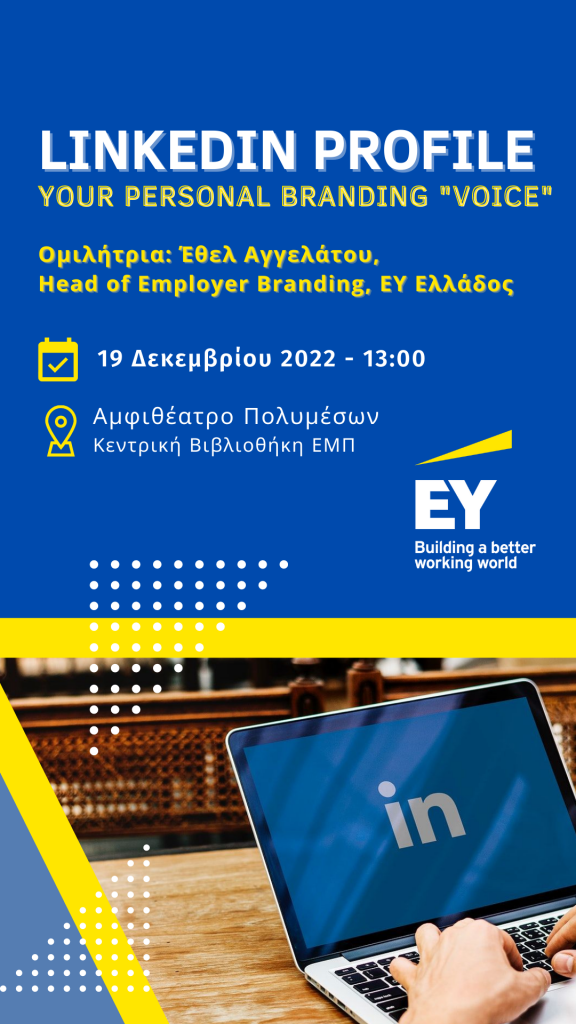 Have you ever wanted to write your #CV and didn't know how to start?
You're eager to join #LinkedIn, but you're "lost" because you don't know how to present yourself and most importantly how to showcase what you've accomplished academically or professionally?
@Ethel Agelatou, Head of Employer Branding at @EY Greece, will join us for a full-on #PersonalBranding discussion to share secrets and essential elements of a well-rounded digital professional #profile that will bring you one step closer to the career you're chasing!
It's a fact that a large percentage of students, when entering the job market may struggle to properly communicate their personal brand and structure their professional #profile. Nowadays, with the job market being very #diverse and with every employer looking for something #different, the student, and every prospective employee, are required to know the market needs and the strategy to follow in order to present their #skills and professional #goals.
The key words for a complete profile are efficiency, sufficiency and to-the-point. There is information you should include and some others that... you should avoid. So, these DOs and DON'Ts are what will be discussed on Monday, December 19, 2022, at 13:00 - 14:30.
The event is organised by IEEE NTUA SB.