Athens Unikraft Hackathon
---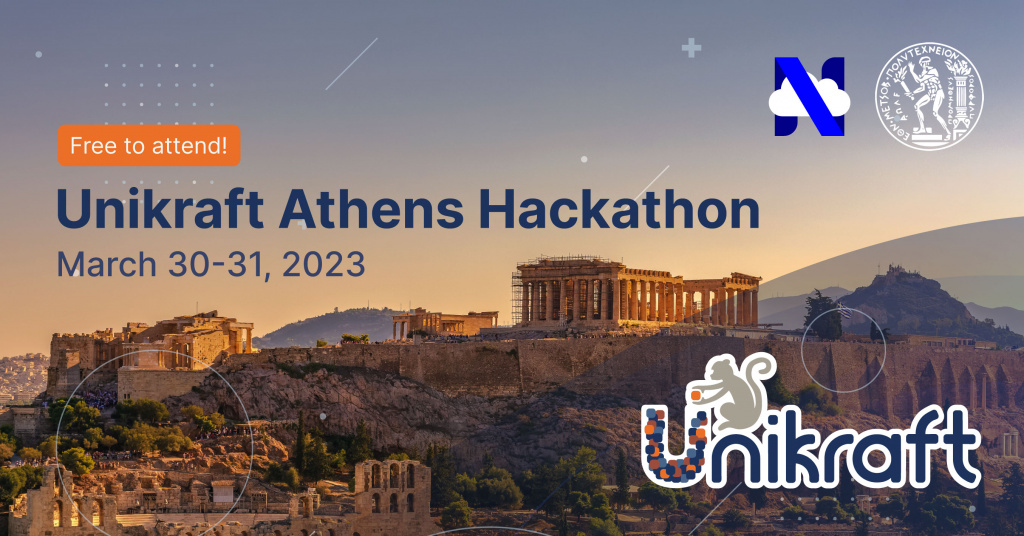 Unikraft, Nubificus, the High Speed Communication Networks Lab (HSCN) and the Computing Systems Lab (CSLab) of the National Technical University of Athens (ICCS/NTUA) come together to organize the Unikraft Athens Hackathon to be held on Thursday and Friday, March 30-31, 2023.
The hackathon will take place as an in-person event at the Multimedia Amphitheater at the Zografou campus of NTUA. The full address is: Multimedia Amphitheater, Central Library Building, Heroon Polytechniou 9, 15780 Zografou, Greece.
Support information and discussions will take place on Discord on the #hack-athens23 channel.
Registration
To take part in the hackathon please fill this registration form by Sunday, March 26, 2023, 11pm CET.
Please bring your own laptop. It's best if you have a native Linux installed on your laptop. For any situation, we will have virtual machines ready, to be able to get hacking quickly and easily.
See the Program: https://unikraft.org/community/hackathons/2023-03-athens/#schedule
Read more for Athens Unikraft Hackathon: https://unikraft.org/community/hackathons/2023-03-athens