Energy Today: Challenges and Prospects for the Future
---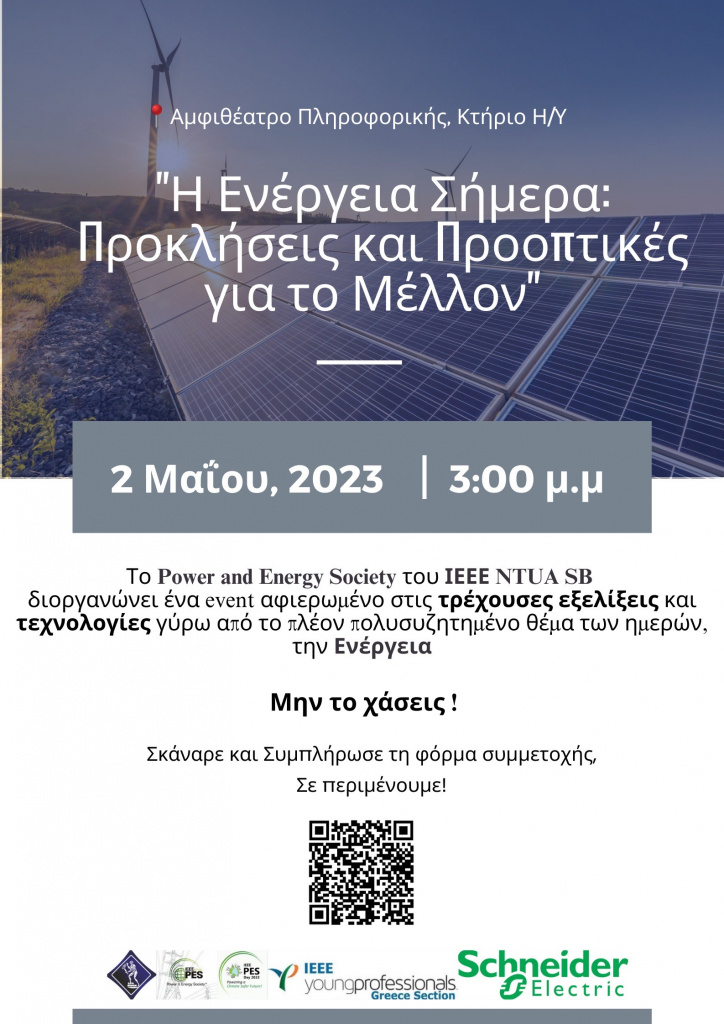 The Power & Energy Society (PES) Chapter of IEEE NTUA SB, in cooperation with the School of Electrical and Computer Engineering of the NTUA and the IEEE Greece Young Professionals, are co-organizing an event called "Energy Today: Challenges and Prospects for the Future" coinciding with PES Day 2023. The event will focus on the latest technologies in the energy field and the current energy crisis. Experienced professionals will give talks on various topics, including e-mobility, smart grids, and green buildings.
Additionally, there will be a panel discussion with the participation of ECE NTUA Professors: N. Hatziargyriou, S. Papathanasiou and A. Papavasileiou. They will discuss renewable energy sources, the Greek grid, and the latest trends in the energy field.
The event will conclude with a networking session that includes snacks, where participants can learn more about our team. Join us on May 02 at 15:00 at the Amphitheater in the NTUA Central Computer System Building. The PES Chapter of IEEE NTUA SB looks forward to seeing you there!
Fill out the participation form:
https://docs.google.com/forms/d/e/1FAIpQLScAAvD48BNjYmWmEYumRzX-Fm-ocCNvd9-b7y6pWLcv46WbyA/viewform