iRASional@ECE-NTUA wins third place in Bosch Future Mobility Challenge 2023
---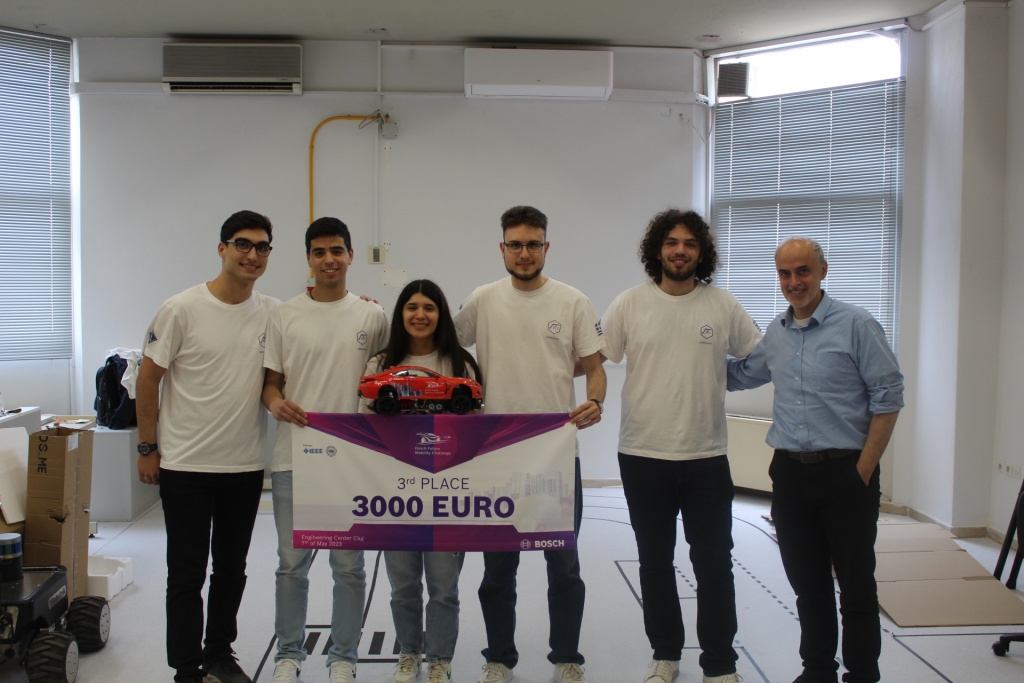 We are happy to announce that the iRASional team of Robotics & Automation Society - IEEE NTUA SB, with the academic support of IRAL - the Intelligent Robotics and Automation Laboratory of ECE-NTUA - won 3rd place in the Finals of 7th of May 2023 in the Bosch Future Mobility Challenge 2023. The winning team worked on the technology of self-driving cars and dealed with machine learning, computer vision, wheel systems, simulations, etc. Its goal was to create a fully autonomous car that can navigate the streets of a smart city. The iRASional team consisted of five undergraduate students of ECE-NTUA, Angeliki Zerva (Team Leader), Dimitris Kampanakis, Nikolas Moraitis, Nikolas Kordas and Thanasis Tsiatouras. The students worked hard and creatively for a period of over 6 months to achieve this excellent and rewarding result.The students were coached by Associate Professor Constantinos Tzafestas.
The Bosch Future Mobility Challenge is an international technical competition that invites university student teams to develop autonomous driving and connectivity algorithms on 1/10 scale vehicles, provided by Bosch, to navigate in a designated environment simulating a miniature smart city. The students work on their projects in collaboration with Bosch experts and academic Professors for several months to develop the best-performing algorithms. The teams are asked to perform tasks such as lane keeping, traffic sign recognition, decision making, path planning, localization and much more.
More than 70 teams from 19 countries participated in this year's competition. The iRASional team was one of the two Greek teams that reached the final.
All winners of BFMC2023 are listed below:
First prize - S.O.D.A.
Second prize - DEI UNIPD
Third prize – iRASional
Best New Participating Team Prize – NitroBoosters
The Audience Award - FP3
Marketing Award – VROOM