Memorandum of Cooperation between DEPA INTERNATIONAL PROJECTS and the Laboratory of Decision Support Systems & Management of ECE-NTUA
---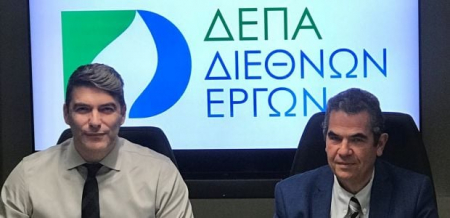 A Memorandum of Cooperation was signed by DEPA International Projects and the Laboratory of Decision Support Systems & Management (EPU-NTUA) of the School of Electrical and Computer Engineering of the NTUA for the exchange of know-how on issues related to renewables on Friday, November 12, 2021.
The signing of the Memorandum of Cooperation is a practical recognition of the crucial importance of sustainable development in the energy sector, with the aim of promoting renewable energy sources and their application to existing and planned infrastructure, facing the global climate change crisis.
The Director of the Laboratory of Decision Systems & Management of the NTUA, Professor Ioannis Psarras, stated that the cooperation with DEPA International Projects will contribute to the promotion of technical solutions for the development of green energy in Greece, through the direct connection of technological achievements with the needs of the energy market.
In his turn, the CEO of DEPA International Projects, Mr Konstantinos Xifaras, stressed that the company holds a key position in the country's energy development, and it is oriented towards the sustainable energy future of Greece and Europe. The exchange of knowledge and experience between the executives of DEPA International Projects and the research staff of the Laboratory of Decision Support Systems & Management (EPU-NTUA) will accelerate the adoption of innovative solutions for the transition to greener forms of energy for Greece and the wider region of Southeastern Europe. In this context, EPU-NTUA and DEPA International Projects have agreed to implement actions to achieve the above energy objectives.
More specifically, for the implementation of these objectives, DEPA International Projects and the EPU-NTUA agreed on the following actions:
The exchange of know-how for the development of sustainable energy infrastructure.
The joint organization of conferences on issues related to renewable energy sources.
The participation in actions for the development and implementation of innovative renewable energy projects.
The organization of meetings to inform and sensitization of all interested parties for the implementation of innovative and sustainable solutions in the energy supply chain.
The signing ceremony of the Memorandum was attended by Ioannis Psarras (Professor at ECE-NTUA and Director of EPU-NTUA), Haris Doukas (Ass. Professor at ECE-NTUA) and, on behalf of DEPA International Projects, by Konstantinos D. Xifaras (CEO of DEPA), Vassiliki Stamatopoulou (Corporate Development & Strategy Director of DEPA) and Michalis Folas (Head of the Directorate of Technical Works at DEPA).