3 PILLARS OF AN ALTERNATIVE LINKEDIN APPROACH
---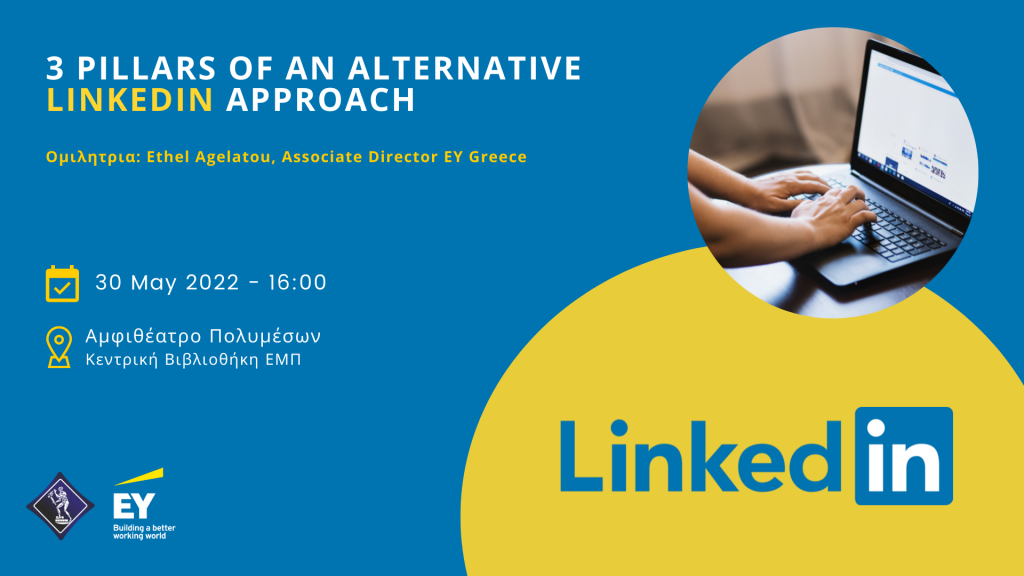 The IEEE NTUA Student Branch, in collaboration with the School of Electrical and Computer Engineering of the NTUA and EY Greece, invite you to the talk entitled "3 Pillars of an Alternative LinkedIn Approach".
It is important for a candidate to be able to communicate digitally, in a targeted, structured, strategic, but most importantly effective way! How is this possible, when on a platform like LinkedIn, a community of member executives is already operating and "breathing", with its own rules of communication and perception?
How can we integrate ourselves into this network, leaving a digital footprint that will bring us closer to our desired professional goals?
Does it ultimately matter to showcase our expertise and positioning for what we stand for professionally, in order to establish ourselves as Opinion Leaders in our industry, both domestically and internationally?
These, and many more, will be discussed, for those who are pondering or eager to venture into building their digital Personal Brand on LinkedIn.
📅The seminar will take place on Monday 30/05 at the Multimedia Auditorium, NTUA Central Library at 16:00 and will last 2 hours.
➡️Register at the following link: https://forms.gle/eNthqe1ZLCQNuWhy8
Facebook Event: https://fb.me/e/83aooNQj3
ABOUT THE SPEAKER: Ethel Angelatou, Head of Employer Branding at EY Greece, specializes in Corporate and Employer Branding for organizations, as well as the Personal Brand of market executives. In addition, she teaches as a guest LinkedIn Instructor at the postgraduate programs of The American College of Greece (Deree College), while she is an active speaker at conferences, events and career days, based on her extensive expertise in communication and sales strategies in digital media.